The Battle of Hoke's Run/Falling Waters
July 1 & 2, 1861 in Hainesville, West Virginia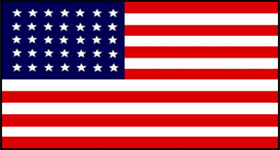 | | | | |
| --- | --- | --- | --- |
| Strength | Killed | Wounded | Missing/Captured |
| ~+mn~ 20,000 | ~+mn~ 8 | ~+mn~ 15 | ? |
| | | | |
| --- | --- | --- | --- |
| Strength | Killed | Wounded | Missing/Captured |
| ~+mn~5,000 | ~+mn~ 31 | ~+mn~ 50 | ? |
Conclusion: Union Victory
It was the first battle for Col. Thomas J. Jackson, who would go on to become Gen. Thomas "Stonewall" Jackson and a popular figure in the war. It was the first time cavalry forces fought in the conflict and it marked the first time cannons were used in the Shenandoah Valley.
During the battle, it is estimated that 20,000 Union troops and 3,500 to 6,000 Confederate troops faced off. The battle started as a result of the Union trying to keep a group of Confederate forces confined to the Shenandoah Valley. The Battle of Hoke's Run, also known as the Battle of Falling Waters or Hainesville, took place as part of the Manassas Campaign.
On July 1, at 4:00 A.M., the Union infantry passed through Williamsport, wading a ford towards Virginia. Williamsport was a river village on the Maryland-Virginia border. Col. J.E.B. Stuart had reported to Col. Thomas J. Jackson the movement of the Union force.
At 7:30 A.M., Jackson prepared his force for battle. His instructions were to just observe the Union movement and fall back if they got too close to the Confederates. Jackson sent 3 cannon to the rear and ordered Stuart and the cavalry on the flank. The Federals left their woodland cover and made a charge towards the Confederates. After firing once, the Confederates fell back down the roadway, with the Federals following right behind them. The Confederate artillery opened fire on the incoming Federals, thus clearing the road. Jackson's men retreated slowly before the Union force. When the Federals entered the Confederate camp, they found 150 empty tents, which they promptly tore up. While doing this, Stuart's cavalry force charged at the Federals and clashed with them. The fighting spread through the wooded areas. Stuart found the 15th Pennsylvania Volunteers, Company I, isolated in a clearing. He ordered them to surrender, which they quickly did. He then marched the Union prisoners back to the Confederate lines.
On July 2, Maj. Gen. Robert Patterson's division crossed the Potomac River near Williamsport and marched on the main road to Martinsburg. Near Hoke's Run, Abercrombie's and Thomas's brigades encountered regiments of Jackson's brigade, driving them back slowly. Jackson's orders were to delay the Union advance only, which he did, withdrawing before Patterson's larger force.
On July 3, Patterson occupied Martinsburg but made no further aggressive moves until the 15th, when he marched to Bunker Hill. Instead of moving on Winchester, however, Patterson turned east to Charles Town and then withdrew to Harpers Ferry. This retrograde movement took pressure off Confederate forces in the Shenandoah Valley and allowed Johnston's army to march to support Brig. Gen. P.G.T. Beauregard at Manassas. Patterson's inactivity contributed to the Union defeat at the Battle of First Manassas/Bull Run.