The Battle of Rockville
June 11-16, 1861 in Rockville, Maryland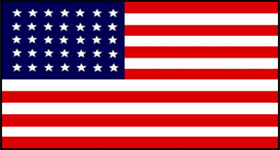 | | | | |
| --- | --- | --- | --- |
| Strength | Killed | Wounded | Missing / Captured |
| 2,500 | ? | ? | ? |
| | | | |
| --- | --- | --- | --- |
| Strength | Killed | Wounded | Missing/Captured |
| ~+mn~ ? | ? | ? | ? |
Conclusion: Union Victory
Rockville Expedition
The Rockville Expedition, one of the first offensive movements by Union forces, was ordered by Gen.-in-Chief Winfield Scott for the purpose of securing firmly in Union hands the area of Maryland along the Potomac River northwest of Washington. Scott wanted to cut off the flow of supplies from Baltimore to Virginia, protect the area from Rebel raids, reopen the obstructed Chesapeake & Ohio Canal, and "give countenance to our friends in Maryland and Virginia."
Col. Charles P. Stone was selected to lead the 2,500-man Union force, which was composed of 3 regiments plus 4 battalions of infantry, 2 companies of mounted troops, and 2 cannon.
Stone's command departed from Washington on June 10, and arrived at Rockville, MD the next day. Stone established his headquarters at Rockville and dispatched detachments to numerous nearby river towns. The sudden appearance of Union troops in the area alarmed Confederates in Virginia and Confederate sympathizers in Maryland. On the 14th, one of the detachments engaged in an inconsequential skirmish with local Confederates at the river town of Seneca Mills. The next day, Stone's men secured Edwards' Ferry and Conrad's Ferry, the two main approaches to the strategic Virginia town of Leesburg.
Confederate forces advanced to the river from Leesburg on the 16th, but Stone's artillery forced them to retreat the next day when they attempted to cross at Edwards' Ferry. The Union force continued to occupy the area for the next 2 weeks. They then received new orders from Scott to march northwestward to Martinsburg, VA and join forces with Gen. Robert Patterson's command, which was arriving from Pennsylvania. When Stone's men reached Harpers Ferry, they found the Confederate occupiers had evacuated the town. Stone crossed over the river and engaged in a long-range artillery duel with the Rebel rear guard. The Rockville Expedition ended on July 7, when the Union troops arrived in Martinsburg.