The Battle of Sewell's Point
May 28-29, 1861 in Sewell's Point, Virginia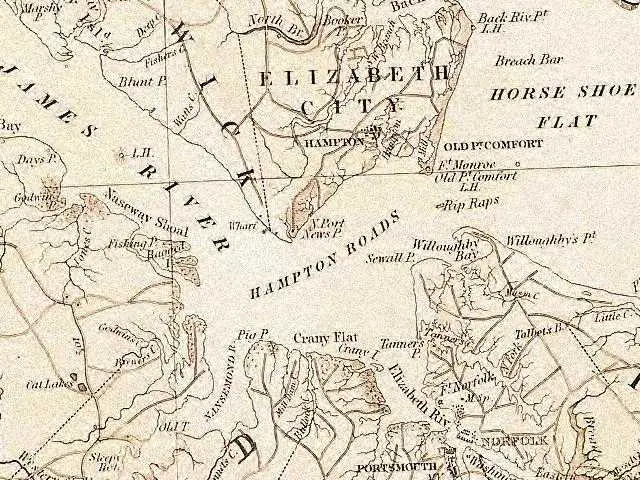 Click To Enlarge
Union Forces Commanded by
Lt. D.L. Braine U.S.N.
| | | |
| --- | --- | --- |
| Strength | Killed | Wounded |
| Two gunboats | ? | ? |
Confederate Forces Commanded by
Gen. Walter Gwynn & Capt. Peyton Colquitt
| | | |
| --- | --- | --- |
| Strength | Killed | Wounded |
| Battery garrison | ? | ? |
Conclusion: Inconclusive / Draw
See also Chesapeake Bay Blockade
US Gen.-in-Chief Winfield Scott proposed to Pres. Lincoln a plan to bring the states back into the Union: cut the Confederacy off from the rest of the world instead of attacking its army in Virginia. His plan to blockade the Confederacy's coastline and control the Mississippi River valley with gunboats was dubbed the "Anaconda Plan" by those demanding immediate military action. Lincoln ordered a blockade of the southern seaboard from the South Carolina line to the Rio Grande on April 19 and on April 27 extended it to include the North Carolina and Virginia coasts.
On April 20, the Union navy burned and evacuated the Norfolk Navy Yard, destroying 9 ships in the process. Occupation of Norfolk gave the Confederates their only major shipyard and thousands of heavy guns, but they held it for only one year. Brig. Gen. Walter Gwynn, who commanded the Confederate defenses around Norfolk, erected batteries at Sewell's Point, both to protect Norfolk and to control Hampton Roads.
The Union dispatched a fleet to Hampton Roads to enforce the blockade, and on May 18-19, the Union gunboats Monticello and Thomas Freeborn exchanged fire with the batteries at Sewell's Point under Capt. Peyton Colquitt, resulting in little damage to either side.
Site Map
| Copyright © 2012
USwars.com
,