Ohio State Penitentiary Prisoner of War Camp
Search, View, Print Union & Confederate Civil War Prisoner of War Records, 1861-1865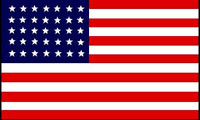 Union 1863-1865
Columbus, Ohio
The Ohio State Penitentiary in Columbus was a 3-story stone structure with heavy iron bars on the windows and doors of cell blocks. It was used to house hardened convicts until July 30, 1863, when David Todd, governor of Ohio, informed warden Nathaniel Merion that the prison would also house Confederate prisoners of war.
Four days before, the Confederate cavalry Gen. John Hunt Morgan and 364 of his men had been captured at the end of the longest cavalry raid of the war. They had terrorized the populations of Indiana and Ohio as they traveled more than 700 miles through those states in 25 days. Because Camp Chase, the prisoner-of-war camp outside Columbus, was not considered secure enough for such desperate prisoners, Morgan's raiders were confined at different locations from which they would have no chance of escaping.
Union Dept. Comdr.Gen. Ambrose Burnside declared the prisoners ineligible for parole, sentenced to be imprisoned for the duration of the war. Morgan and 30 of his officers were thrown in with the general prison population of felons in the penitentiary in Columbus. They were denied all visitors, and had to endure the humiliation of having their heads shaved and wearing convict clothes. These soldiers were occasionally punished by being put on a bread and water diet and placed in solitary confinement in dank, unlighted prison cells. All of these actions were contrary to the rules governing the confinement of prisoners of war. On the night of November 27, Morgan and 6 of his officers escaped. They had worked for 20 days with 2 small knives to gouge out a tunnel to freedom.
Prison rules changed after the escape. War prisoners were separated from the rest of the prison population and kept on the third floor under constant military guard. The state penitentiary's involvement in the war ended on March 18, 1864, when Secretary of War Stanton ordered all remaining Confederates transferred to the notorious prisoner-of-war camp, Fort Delaware.